The farmers birthday is on Halloween. Normally we have a lasagna dinner at his mom's house with a cake or pie of his choice. But this year I took him out of town for a much needed get away for his birthday. We really did have a nice time, great dinner a movie and much shopping. So we thought about buying a cake for his birthday at this great bakery suggested by my daughter and son-in-law. But after finding the bakery we found it was closed. So I told him "no problem honey. I will go home and make you a Boston cream pie".
Oh boy!! He anxiously anticipated this lovely cake. Why do they call it a pie anyway? I think they did this to mess with me.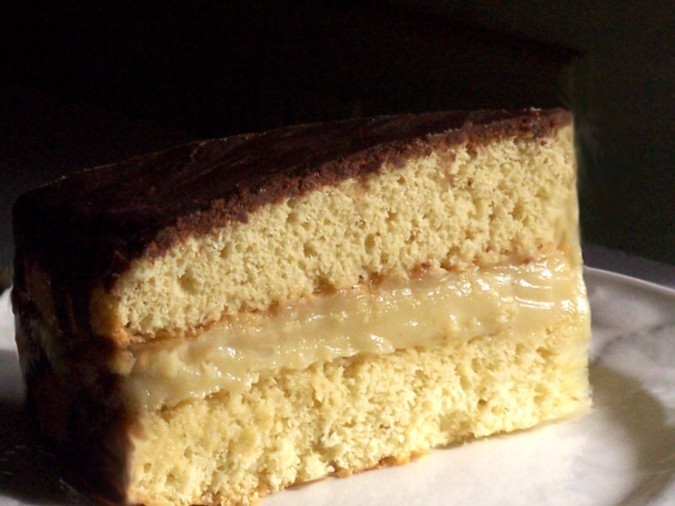 I love Boston cream pie. I made it years ago....once. I swear I remembered it being beautiful and so good. You know, like this photo. Isn't it perfect? Oh how I wish this were my cake.
So the home made cake had a wee little bit of a problem. When I tried to slice it in half it kind of shattered into a million crumbly pieces. I just stood there laughing with tears streaming down my face. Oh my I am still cracking up looking at this beautiful masterpiece.
I kind of shoved it all in a pile and with enough custard dumped on it you could barely tell. Then drizzle the chocolate sauce and wa la! Kind of purdy don't ya think?
Well maybe until you turn it around to the other side. Ha ha ha! I think my daughter needs to be perhaps making all of my cakes in the future. So maybe I could win a contest for this.
The farmer was such a good sport. He had to come see why I was hysterically laughing. When I held out the lovely mess he just stood there...blink, blink, whir, whistle!!
Still the farmer ate a big old sloppy piece and just smiled. Note the large
shovel
cutting utensil and the large glass of ice water to choke it down with. Where were you Paula Deen when I needed you?
Happy birthday to my farmer.